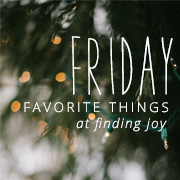 I am going for more of a random list of favorites this week, because I was not feeling particularly passionate about any one favorite thing...
Favorite kind of pizza = Canadian bacon, onions, and green peppers
Favorite vegetable = asparagus
Favorite subject in school = History
Favorite book of the Bible = Philippians
Favorite foreign accent = Australian
Favorite Summer Olympics sport = SWIMMING!!
Favorite breakfast cereal = Cinnamon Life
Do you have any random favorites you would like to share on this wonderful Friday?